Pocket Quicken (Windows Installer)
2.5
The Official Quicken Companion
Last update
20 Mar. 2006
Licence
Free to try |

$34.95
OS Support
Mobile
Downloads
Total: 613 | Last week: 0
Ranking
#23 in Personal Finance
Publisher
Landware, Inc.
Pocket Quicken (Windows Installer) Publisher's Description

Pocket Quicken v2.5 with over 150 improvements represents
a culmination of what we've learned from our customers. We started with the best of what owners know and love about Pocket Quicken and improved almost every area, both internally and externally.

The cornerstone of this new version is a streamlined interface that makes the ugliest of finances more appealing. Pocket Quicken 2.5 provides full support for high resolution screens, graphics and fonts to display your financial information in ways not possible before.

Special attention has been given to optimizing Pocket Quicken for one handed operation; Combining a new ThumbNav? mode, D-Pad support and superior auto-complete to radically improve on-the-go data capture on Palm OS based smartphones.

In addition to its legendary integration with Quicken, Pocket Quicken 2.5 can now operate as a complete standalone Financial Manager right on your handheld; scheduled transactions, reconciliation, flexible searching, improved list management are all present and accounted for.

We have even made it easy to get started too. Simply answer a few simple questions after installation and Pocket Quicken 2.5 will automatically configure itself to best suit your needs.

Here are just a few key features of Pocket Quicken:
Account balances at a glance

View account registers

Single-tap data synchronization

Fast data entry with QuickFill

Organize with categories and classes

Protected data with PIN access

Foreign currency support

Overdrawn account warnings

Built-in calculator

Quick Reports instantly summarizes financial activity

Full support for high resolution and landscape screens

May be used without a desktop application

Single handed operation with D-Pad and ThumbNav?

New "Transaction Priority Mode"

Auto-Create budgets levels based on prior spending

Automatically schedule payments/deposits

Flexible overview displays

Account Reconciliation

Use "Find" to locate specific transactions quickly

Integrated help with operational tips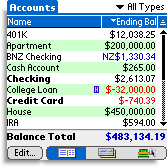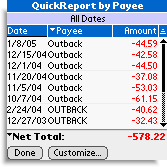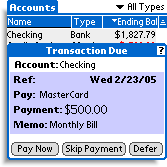 Handheld Requirements
Palm OS 3.5 or later
Application: 450K RAM
Data: Approx. 120K per 1000 transactions
Optional Quicken Synchronization Requirements
Windows 95, 98, Me, NT, 2000, XP
HotSync Manager 3.0 or later
US/Canadian: Quicken 99 through 2005, OR UK: Quicken 2002 or XG or later, OR Australia: Quicken 2004 Personal Plus or later
Macintosh Users
,
Click here
Look for Similar Items by Category
Feedback